Niseko
Japan's top ski resort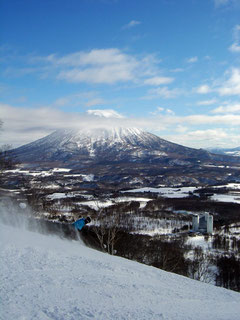 Often finding myself the only foreigner who didn't go home for Christmas, when I came to Japan I quickly fell into the habit of diluting my winter-break solitude by heading up to Hokkaido to ski.
Over the years, I'd checked out steep-fronted Teine Highland, powder-laden Rusutsu, and lamentably forgettable Kiroro, but I'd never made it to the crown jewel of Japan's premier powder destination: Niseko, 61 runs and 38 lifts divided between three resorts on a single 1,308 m (4,291 ft) mountain, all receiving an average of 1,511 cm (595 in) of snowfall every year.
We got on the train at 5:00 in the morning to make our flight from Haneda Airport to Shin Chitose in Hokkaido. 90 minutes in the air and a three-hour bus ride later, we were at the base of the Niseko Village Ski Resort, hitting the slopes by 1:00 in the afternoon.
High winds had closed the top of the mountain, and we skied blind through a snowstorm that reduced visibility to about 10 meters (33 ft). There was some delectable powder to be found on-course, but the most tantalizing stuff was laid out in Mizuno-no-Sawa, one of Mt. Annupuri's several Avalanche Control Zones.
Niseko offers six official 'gates' to backcountry trails, and it is very serious about the rules being observed. Due to the high risk of avalanche, Mizuno-no-Sawa is only opened under careful observation, and will go unrideable for years at a time. Access is only allowed to small groups entering and exiting at specific points, and even then, only after a 20-minute safety lecture. While we were there, the gate was closed, and not a single track was to be seen inside.
Our second day was spent at Niseko Grand Hirafu, the largest of the three main resorts straddling Mt. Annupuri. With high winds pinning us down to the lower reaches yet again, we headed over to the Hanazono area, which was not only sheltered from the wind, but offered luxurious covered chairs to boot.
Hanazono's hidden gem is Strawberry Fields, a broad swath of off-piste ensconced in the midst of the patrolled runs, unnamed and marked only by a diamond-enclosed 'G' on the trail guide. The fenced-in gate to the area promised certain doom to inexperienced skiers, but it was really little more than a single-black with foliage, and the expansive bowl was filled with the best powder to be had within resort bounds.
Stopping for lunch at the base of Hanazono, we found a room so stuffed with Australians that my girlfriend thought it worthy of a photo. With Niseko serving as the premier hotspot for skiers and boarders from down under, Hirafu's ski instructors seemed to be predominantly foreign, and we were as likely to see an Australian family of four as a single Japanese person.
While I'd elected to bring only my tubby short skis along to enjoy the bumps, Hirafu is also serious about boarding. From massive jumps on the main hills to dinky jumbles of rails inserted into the ski-outs, there are no less than two half-pipes and six board parks scattered across this one resort alone.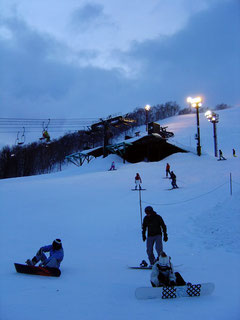 Returning to Hirafu proper at the end of a satisfying day, we were greeted by the breathtaking sight of Mt. Yotei as we descended the front slopes. Sometimes known as the Fuji of Hokkaido, Mt. Yotei is 1,898 m (6,230 ft) of graceful symmetry, and it sits on Hirafu's doorstep, so close you could almost touch it.
For ¥37,000 (about US$370) each, our package included transportation and three nights at the Green Leaf Hotel, as well as buffet breakfasts, one dinner, one day's lift pass, and ¥2000 in airport shopping coupons (omiyagé—check!).
The hotel was right at the base of Niseko Village Resort, and while our room seemed to be hidden at the far end of the hallway in the Shining, the buffet dinner included copious crab's legs, and even a tub-avoiding Calvin like me had to admit that the onsen (hot spring bath) was sublime. First sitting indoors before a living mural of snow-covered firs, bathers could then move outside to soak under intricate rock arrangements protected by snow drifts and conifers. I even found out what happens when you drop a snowball into a hot spring.
Niseko's main village lies at the base of Hirafu, about a 15-minute bus ride from the Green Leaf Hotel. There are some lovely restaurants in town, all well-accustomed to serving English-speaking clientele. The Senchou 2nd seafood restaurant provided a selection of excellent nabé (hot-pot) dishes, and with an extensive list of 'live' food on the menu, it was fun to sit at the bar and watch the chef wrestle with meter-long (3.3 ft) octopus limbs.
With a high-angled roof that makes it look like a Dickensian factory or a Tim Burton dreamscape, the Hilton hotel stands right at the base of the Niseko Village gondola, tempting weary snow-riders with a selection of seven bars and restaurants. We were drawn in by the ¥1500 lunch buffet at the Melt Bar & Grill—a steal at ski resort prices—including bread pudding and tasty brownies that merited repeat samplings. Any liquid wetter than water would cost you ¥500 extra, however.
On our third day, we used an all-mountain pass to little avail. While Niseko's three main resorts are all connected at the top of the mountain, the Siberian wind was still lashing the upper lifts around like skipping ropes, and we were reduced to hopping from place to place by bus. The all-mountain ticket can be used as a bus pass, but buses only come about once every half hour, and it's approximately 15 minutes from point to point.
Receiving the brunt of the 70 km/h (43 mph) winds, Annupuri International Ski Area had been closed entirely, so we jumped from Niseko Village to Hirafu and Hanazono in search of snow that hadn't been blown off the mountain. After three days of constant assault, even Strawberry Fields was starting to develop a crunchy surface layer.
The tempest finally abated on our fourth and final day, and we were able to ascend the summit at last. Niseko Village had only a sad pair of single lifts servicing the top, one of which was still coated in horizontal icicles that some poor liftie spent the day knocking away with a mallet. Each of these peculiar lifts looked like a double chair literally cut in half, with the entire right side open to a suitable plummet. We hadn't elected to go for an all-mountain pass on a half-day, so we could only gaze enviously at the double lifts servicing Annupuri International on our left and Grand Hirafu on our right.
Three days of wind had blown the peak into brilliant zigzagging patterns, a wild ocean flash-frozen in the midst of a storm, and all of it as hard as ice. Without trees or boundaries, the top of Niseko is normally an unofficial free-for-all zone, but going beyond the groomed courses that day was like trying to dig your edges into scoriated marble.
But we'd already had our powder. Now it was about the view. The breadth of the valley was spread out below us, the sun reflecting pink on a distant sliver of gleaming ocean. It was nothing less than spectacular.
.
On the way down, we discovered Superstition, a run that advertised itself alluringly as 'Niseko's best powder.' Superstition proved to be the last refuge of softness. While the rest of the mountain had been wind-lashed down to its packed base, the steep left flank of Niseko's only official double-black was still knee-deep in the downy good stuff.
All that remained was to get a clear view of Mt. Yotei. While the big mountain would entice us with its lower flanks for hours at a time, just like Mt. Fuji in the south, Yōtei-zan seemed to prefer to summon cloud up around its shoulders, and was perpetually beheaded by a somber slash of grey. But just as we left the top on that final afternoon, Mt. Yotei finally graced us with a fifteen-minute glimpse of its pristine peak. It was hard to put my camera down long enough to ski.
Other Recommendations
Published February 2010. Photos (c) 2010 Michael Kanert.