The Sanriku Coast
Jagged cliffs and sunken estuaries
The Sanriku Coast (Sanriku Kaigan) stretches across three prefectures, from the Oshika Peninsula in Miyagi Prefecture to the southern reaches of Aomori in northern Japan. Renowned for its saw-toothed coastline and dramatic rock formations, here the the wind, rain, and waves of the north Pacific have hammered out countless caves and tidal shelves among coarse islands and pillars of stone, while sheer cliffs tower anywhere from 50 to 200 m (164-656 ft) above the water. This coastline is sometimes called 'Umi no Alps' — 'The Alps of the Sea.'
The southern reaches of the Sanriku Coast form a 'ria' coastline, where crustal sinking has resulted in a jagged edge of long, narrow inlets, coves, and small bays bounded by rocky capes and spindly peninsulas. Rias are similar to fjords, but while fjords are created through glacial activity, a ria forms in an estuary where the land sinks or the sea level rises, leading to the submergence of a valley that was once at sea level. The term comes from the Galician language of northwestern Spain, where such formations are abundant.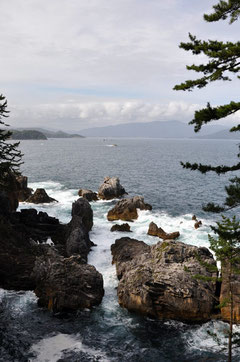 Created in 1955, Rikuchū Kaigan National Park encompasses 180 kilometers of the Sanriku Coast. In the south, the town of Kesen-numa is famous for shark's fin cooking, while Ogama Point offers tall cliffs and tetrahedral pillars of broken marble, known as 'oré-ishi,' rising up from the ocean. Further north, near Ōfunato City, the Goishi Kaigan features the Kaminari Iwa ('Thunder Rock'), where ocean waves strike a rock shaped like a massive prehistoric fin to make the sound of distant thunder.
Standing at the tip of the Kamazaki Peninsula, the 48.5-meter (159 ft) Kamaishi Dai-Kannon (Kamaishi Big Kannon) looks out over the bay by Kamaishi City, Iwate. Built to encourage local tourism in 1970, this Brobdingnagian representation of the Buddhist goddess of mercy symbolizes maritime safety and good fishing. Visitors can climb up thirteen stories inside the statue, passing through worship halls and sanctuaries on the way to the observatories on the 11th and 12th floors.
Beginning on the outskirts of Miyako City, the northern parts of the Sanriku Coast reveal a wild scale and grandeur not to be seen in Japan's long-tamed southern parts. Departing from Jōdo-ga-hama beach, boat tours ply through deep ocean swells pursued by keening Japanese gulls (umineko) while the tall bluffs and ocean cliffs skirt by under a canopy of Japanese red pine, the official tree of Iwate. Jōdo-ga-hama literally means 'The Coast of the Pure Land,' as described in Buddhist scripture.
The Rikuchū Kaigan National Park ends in Kita-yamazaki, where spectacular 200-m cliffs, wave-carved islets and outcroppings peer through the mist, all thrust into the air by an ancient uplift of the ocean floor.
Published January 2010 as Amos Woo. Photos (c) 2009 Michael Kanert.