No Amount of Distance Can Change a Name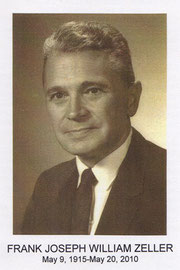 If you stay in Japan long enough, everyone in the world eventually passes you by. First your new friends go home to restart the lives they'd put on hold. Then the friends you left behind get married and have kids. And eventually, the people you've known all your life grow old and die.
My grandfather passed away last Thursday. He had just celebrated his 95th birthday, and his name was Francis Zeller.
While my grandfather's passing was no great shock, the speed with which the end arrived caught everyone by surprise. Although my grandmother has been in declining health for several years, my grandfather had been living independently until just two months ago, when he was admitted to the hospital with pneumonia. Then he was diagnosed with lung cancer, and then he caught pneumonia again. Due to the fourteen-hour time difference between Tokyo and Winnipeg, Canada, it was Friday night before I heard the news from my mother.
We had always been a small family. There were just four on my side, and another four around my mother's sister, with my grandparent bringing the total to ten. My mother's parents had looked after me as a baby, and in my childhood I'd looked forward to visiting them every summer after my family moved to Toronto.
But now I was in Tokyo, and I'd been in Japan so long that my passport had already expired for a second time. The embassy was closed for the weekend, and the funeral had been set for Tuesday.
I had already submitted my passport renewal materials, but even if by some miracle it could be prepared by Monday, I would still need to make another trip to immigration to transfer my visa and re-entry permit. I was dead in the water. My sister and two cousins would read at the funeral, and I would simply visit my grandfather's grave the next time I went home.
Over the weekend, I came to a realization that completely altered my resolve: My grandfather's name was Francis Zeller. And that meant that I had to try.
I got to work an hour early on Monday so I could call the Canadian embassy as soon as it opened. My call was directed to an answering service that promised a response within two business days. I put my cell phone in my pocket and fell back into my chair, giving up hope for a second time. But my grandfather's name was Francis Zeller. I hadn't tried everything yet.
Seventeen minutes after I'd checked in, I punched out my time card and headed straight for the Canadian embassy. Halfway there the embassy called, sending me leaping through the subway doors the instant they parted.
They could give me a temporary passport. Since my visa and re-entry permit hadn't expired, I could use them as long as I took my old passport along. I just needed to have an airline ticket. I turned around and headed straight for my travel agent's.
Although I seldom use it, my full name is Michael Francis Zeller Kanert.
My travel agent nearly teared up when I told her what I had to do, and by 11:00 she was processing what must have been the last available ticket that would get me to Winnipeg by Tuesday morning. As we waited, I discovered that my insurance company only covered compassionate visits for people who passed away before the age of 76.
I bolted for the Canadian embassy, the staff doing yeoman's work to get me a temporary passport before they broke for lunch at 12:30. I jumped onto the Narita Express to make my 3:00 check-in time, pausing in the airport mall to buy three days' worth of socks and underwear from Uniqlo before calling my office to let them know I wouldn't be back for a week. Finally, moments before I boarded the plane, I e-mailed my family to let them know I was coming. I would only know whether they'd received the message twelve hours later, when I changed planes in Toronto.
I arrived in Winnipeg at 9:00 p.m. local time, still wearing the grey suit I'd put on in a city where it was already 11:00 a.m. Tuesday morning, having intrigued every immigration officer along the way with my rare white passport. Ten minutes later, my family arrived to meet me.
Sometime after 11:00 the next morning, my grandfather's portrait rested before the altar in St. Ignatius of Loyola Church surrounded by five vases of white roses, gazing across at the lectern as the presiding priest delivered the sermon. As Father Jerry concluded a well-meaning attempt to equate life with a symphony, I had the palpable sense that my music-loving grandfather had returned to life just for that instant. I could vividly see his portrait shrug and pronounce in my grandfather's generous, evenly-paced tones, "Well, he gave it a good try. But he doesn't know music!"
The service was followed by a reception at the seniors' center where my grandfather had lived the last decade of his life, friends and colleagues taking the microphone to share their reminiscences of a man whom they universally described as both a gentleman and a gentle man. And when my turn came, this was the story I told.
My grandfather's name was Francis Zeller. My name is Michael Francis Zeller Kanert. And that weekend before my journey, I had asked myself: If my name didn't count for something now, when would it count?
Obituary
FRANK JOSEPH WILLIAM ZELLER
May 9, 1915 - May 20, 2010
It is with deep love and sorrow that we announce the passing of our dear husband, father, brother and grandfather on May 20, 2010.
Frank was born on May 9, 1915 in Indija, Jugoslavia, then still part of the Austrian Empire. He was one of five brothers and one sister in the family of Heinrich Zeller, civil engineer and humanitarian, and his Austrian wife, Anna Hagenhofer of Styria. Frank was, throughout his life, a gifted student of the humanities, especially philosophy, and a great lover and connoisseur of classical music, particularly of the Baroque era. Besides the violin and piano, he also played the viola. He studied law at the University of Belgrade, and, in 1952, when he immigrated to Canada from Austria with his wife, Valentine, and two daughters, began to study English while earning his law degree at the University of Manitoba. After passing his law exams with honours, he was admitted to the bar in 1958. He was employed at the Manitoba Telephone System as a corporate solicitor from 1958 to 1980. After retirement he continued to practice law and worked as a notary public until his death.
He also continued to add to his vast collection of classical music until his last days.
He is survived by his beloved wife of 68 years, Valentine, his youngest brother Eduard (Beate) of Graz, Austria, and his beloved daughters and grandchildren. Frank will be missed by his many friends in Winnipeg, and by the residents and staff at Lindenwoods Manor.
Many thanks to doctors and the nurses of Grace Hospital, who took such great care of him and who also sang "Happy Birthday" to him on the occasion of his 95th birthday on May 9.
Cremation has taken place and a Memorial Mass will be celebrated on Tuesday, May 25 at 11:00 a.m. at St. Ignatius of Loyola Roman Catholic Church, 255 Stafford Street.
In lieu of flowers, donations made to any children's charity would be most appreciated.
Obituary written by my mother and my aunt.