Oma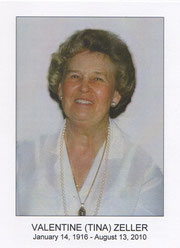 I never had a "grandma" and a "grandpa." For me, there were just "Oma" and "Opa."
Memories of my grandparents have always been associated with travel. My parents moved from Winnipeg to Toronto a few years before I was born, and when I was young, my grandparents would fly out to visit us every summer. Every airplane I saw was my Oma and Opa coming for a surprise visit, and as my helium balloon floated off into the sky, my mom would tell me it was okay—it was going to visit Oma and Opa in Winnipeg.
As my grandparents got older, my side of the family did more of the travelling, driving three days across the hills and forests of northern Ontario for visits every summer. But as time went on, our annual automotive marathons declined, and by the time I finished university I hadn't seen my grandparents for several years.
I decided to head off to Japan after graduation, and I wasn't sure how long I'd be gone. I'd meant to visit Oma and Opa before I left, but I ended up spending the summer scrambling to find part-time work, only scraping together the money for my flight to Osaka a few days before departure. I felt badly for having missed them, but I was sure I would see them on my return.
We were half an hour out from Toronto when the pilot made an announcement:
"Ladies and gentlemen, you've probably noticed that we've been descending for some time. We've been asked to set down in Winnipeg due to misty conditions."
The passengers peered out the windows at the cloudless sky. Misty conditions? Were the wings on fire? Were we about to crash? Was this what they told the passengers to keep them calm?
Though I kept quiet, I harboured a secret suspicion that this was my fault.
My plane had taken off on the morning of September 11th, 2001. While there was so much suffering and heroism in New York and everyone on my plane scrambled to find housing and hotel rooms, I guiltily enjoyed a free week-long visit with my grandparents.
Whatever god my grandmother prayed to, he delivered results.
Thereafter, no matter how tight my schedule, every time I came home I was sure to fly out to Winnipeg to get my Oma's blessing before heading back to Japan. It was a matter of national security.
Born in 1916, my grandmother fled the Russian Revolution to end up in Yugoslavia, then Austria, and finally Canada. She would knit clothing for my stuffed toys, and always ensured that her pantry was stocked with a jar of vanili kipferl (horseshoe-shaped almond cookies) for me to unrepentantly raid. Always arriving with a bag full of soup bones, even the family dog went wild when she arrived.
My grandmother was stubborn and impulsive, eager to defy you to for your own good, and equally eager to apologize when you finally convinced her that she'd made a mistake. She would mischievously slip money into my hand with the whispered instructions, "Don't tell Opa," only to launch a blitzkrieg-style argument with my mother about what was best for the grandchildren five minutes later. She was the only person in the family who talked faster than me. My simple existence brought her joy.
As her memory faded, she began to confuse me for my grandfather. Showing her a recent photo yet again, she would put a hand to her cheek and lament with a wink, "Agh! I got old!" I never minded that our conversations became circuitous. I always knew exactly what to say next.
It was only when preparing photos for her memorial service that I recognised that I looked exactly like my grandfather when he was twenty.
We had two services for my Oma at the Russian Orthodox Church of the Holy Resurrection in Winnipeg. I had never attended a Russian Orthodox service before; if this one was any indication, it involves an uninterrupted ninety minutes of wheezy singing in Russian and English.
Walking in, the open casket was right in the doorway, a tuft of curly grey hair greeting every mourner. I was unnerved at the thought of spending three full hours standing in that tiny chamber two paces from my dead grandmother.
The priest shook a large incense holder over my Oma once and again, and between the bushy beards, creaky notes, dropped lines, and instructions whispered over their prayer books, the lonely four-man choir looked like an improvised barbershop quartet. While my family winked at one another, I looked at my reposed Oma and smiled. This was all for her. She would have enjoyed the attention.
Those long hours gave me time to contemplate my Oma's 94 years of life, to reconcile myself with the reality that she had passed, and, finally, to feel that I had made a good effort to say a suitable farewell. Regardless of faith, custom and culture, maybe that's all funerals are really for.
Then, along with my cousin, I had the honour of placing my Oma in the earth by her husband of 68 years, who predeceased her in May.
Obituary
VALENTINE (TINA) ZELLER
1916-2010
It is with deep love and sorrow that we announce the passing of our dear mother and grandmother on August 13, 2010. Tina was predeceased by her beloved husband of 68 years, Frank, on May 20, 2010. She will be deeply missed by her daughters and grandchildren.
Tina was born January 14, 1916 in St. Petersburg, Russia where her father was an Imperial Court Judge. She was the third child of Peter and Wanda Stopanowski, and sister to Vladimir and Eugene (all predeceased). When the Russian Revolution began, the family attempted to flee together but became separated for several years. Fleeing with the children, Tina's mother twice contacted typhoid fever. Tina was taken into the care of a lady who wanted to adopt her, and her brothers were cared I for by Jesuit priests. Once reunited with their mother, the search for the father continued, and after being reunited through the efforts of the Red Cross, the whole family eventually settled in Belgrade, Yugoslavia. There, Tina went to both Russian and Serbian schools, and became an excellent ballerina. Frank and Tina locked eyes while she danced and he played the piano at a performance, and were married in 1942.
They fled to Austria with Frank's family after the Soviet Invasion of Yugoslavia.
After the ravages of the Russian Revolution and two World Wars, Tina and Frank found a peaceful life in Winnipeg. She found her first true permanent home on Ash Street, where she was accepted by all in spite of her struggles with the English language (her sixth!). Her annual St. VaIentine's ladies coffee party was renowned for her Malakoff
torte and strudel.
Tina met her true calling as a grandmother. In her eyes, her grandchildren were the most wonderful in the world. She lovingly babysat and knit, crocheted, sewed and embroidered their wardrobe, insisting on only homemade food for her darlings. She will
be forever missed.
Many heartfelt thanks to the 6th floor staff of Misericordia Health Centre, where our mother and grandmother with the beautiful smile was lovingly looked after for the last 17 months.
Prayers will be said on Tuesday, August 17 at 7:00 p.m. at the Russian Orthodox Church of the Holy Resurrection at 732 Alfred Avenue. Memorial Liturgy will be celebrated on Wednesday, August 18 at 10:00 a.m. also at the church with Fr. Raphael Vereshack officiating. Private interment to follow at Brookside Cemetery. Reception to follow at Lindenwood Manor, 475 Lindenwood Drive E. at 1:00 p.m.
In lieu of flowers, donations in Tina's memory to the Red Cross would be most appreciated.
Obituary written by my mother and my aunt.