Taiwan
Just three hours away
Taking advantage of the recent appreciation of the yen, my girlfriend and I decided to take a three-day vacation to Taiwan.
Desperate travel agencies, still reeling from the combined blows of the global economic downturn and swine flu-related travel restrictions, were offering tours for as little as ¥15,000 (roughly US$150).
Admittedly, the super-cheap tickets were only available to the first fifty callers, and we ended up relegated to the ¥20,000 stratum. But even tacking on another ¥5000 for a better hotel and ¥5000 for flights that left when normal humans were awake, it was still less than a trip to Kyoto. 
The hotel, while of marginal quality, was superbly located in the center of the Ximending district, Taipei's answer to Shibuya in Tokyo. Ditching the tour company we'd booked with, which seemed primarily concerned with visiting gift shops, we instead hooked up with some local friends who picked us up from our hotel and took us out to Jiufen, a town about half an hour east of Taipei. Famous for its narrow, staircase-lined alleys and winding mountainside shopping arcade, anime fans may recognize the ambiance from Hayao Miyazaki's Oscar-winning Spirited Away, for which the Jiufen market was an inspiration.
Perched high on the mountainside, the view of the coast was stunning, though some nose-holding was required whenever we ventured close to any of Taiwan's infamous stinky tofu, which, while reputed to taste good, smells like an open sewer.
Night Markets
By far the best way to get around Taipei is by subway. The remarkably spacious stations are virtually spotless, and riders are fined if they eat, drink, or chew gum on the trains. Investing 500 Taiwan dollars (about ¥1500) in a train pass, that evening we headed up to the Shilihn Night Market.
The night market, one of several in Taipei, was something like Tokyo's Harajuku area minus all the cool goth shops. The temperature palpably rose in the long, straight, crowded streets, where every third shop offered the exact same selection of discount business shirts, sneakers, jewelry, or women's clothing.
An experience in itself, the food market by the station offered hunks of fried chicken the size of Texas and ample cups of bubble tea for as little as $40 (¥120). Bubble tea—sweet, flavored tea impregnated with little balls of tapioca—has been refined to a science in Taiwan, with some shops even allowing customers to micromanage their sugar levels. Max sugar was painful.
Temples & Memorials
On Sunday morning we took the train to Longshan Temple, one of the oldest in Taiwan, where hundreds of people congregated to pray and burn incense. Tables of fresh fruit, a Taiwanese specialty, were set out across the grounds. These were not gifts for the temple: Rather, people laid out their food while they prayed, then took it home to eat under the belief that it had been blessed.
From Longshan it was a short subway ride to Chiang Kai-shek Memorial Hall. Chiang Kai-shek was the Generalissimo of China's National Government from 1928 to 1948, and led China's forces during the Second Sino-Japanese War. He fled to Taiwan after the 1949 communist revolution, planning to use the island as his base for the retaking of China, Mongolia, and Tibet. He still claimed to be president of the entire Republic of China until his death in 1975.
Flanked left and right by the collossal National Theater and the National Concert Hall, Chiang's monument is built on a scale to match his ambitions, connected by a broad avenue to the Gate of Great Centrality and Perfect Uprightness, which probably doesn't sound nearly as ridiculous in Mandarin.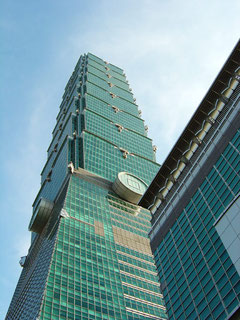 Taipei 101 & The National Palace Museum
At 508 m (1,667 ft) and housing 101 above-ground floors, Taipei 101 was the world's tallest skyscraper when it was completed in 2004, and is now only surpassed by the 800-m (2,625 ft) Burj Dubai in the UAE. Just as we arrived, the clear skies of the morning clouded over and a sudden downpour closed the 91st-floor observatory, leading us to opt for the National Palace Museum instead.
Ruing the idea of walking all the way back to the station in the rain, we hailed a cab and rode the 6 km (3.7 miles) from Taipei 101 to the National Palace Museum for just $270 (less than ¥800), whereas a Japanese taxi driver will charge you ¥710 just for getting in the door.
Much of the museum's extensive collection of 650,000 artifacts was removed from China's Forbidden City in anticipation of the Second Sino-Japanese War, which explains why it's called a 'palace' museum despite the lack of any palace in Taiwan. The special exhibit on the Battle of Red Cliff was interesting, but you can only take so much lacquerware.
By the time we emerged, the rains had stopped, the sky was blue, and the ground had nearly dried under the searing 33-degree (91 F) heat of July. It was time for another shot at the big tower.
The bottom of Taipei 101 is a sleek shopping mall filled with brand-name stores that are no less expensive than their Japanese counterparts. Young women here are just as obsessed with Louis Vuitton and Gucci bags as as they are in Japan, but they otherwise dress more casually, and the entire vibe of Taipei is far more relaxed and open than anything you'll find in Tokyo's conservative crush.
Tickets to the tower observatory were available on the 5th floor of the mall for $400 (¥1200), though we had to trek back and forth through the entire mall to find the ticket booth. Even at a height of 392 m (1286 ft), it was still quite warm on the 91st-floor open observation deck, and the bars were spaced widely enough to pass the lens of a camera. Hands, however, were not to pass though the bars, as indicated by the frequently whistling guards. 
Japanese Influence
Taiwan was under Japanese control for over fifty years, from 1895 to 1952. Japanese donut shops, hamburger chains, and gyudon restaurants can be seen here and there, while Family Mart and 7-11 convenience stores are plentiful, the latter restoring Slurpees to their proper place of pride (There are no Slurpees in Japan).
The radio played Taiwanese remakes of no less than four Japanese pop songs just in the few hours we spent in cars and cabs, and sales staff first greeted customers in Mandarin, then cycled to English or Japanese.
Taiwan is an easy place to visit from Japan. It's close, navigable, welcoming to visitors, and most prices are about a third of those in Japan, making it a worthwhile trip even for a long weekend.
Published September 2009 as Jacob Novoselic. Photos (c) 2009 Michael Kanert.