I'm still at work. JR (overland) trains in Tokyo started running around 7:00 this morning, but they're sketchy. Sections of the subway gradually came back online throughout the night. I don't feel like getting crammed in like a sardine with the 10 million people who commute into Tokyo every day, so I'm going to wait until the initial rush passes.
My biggest problems are traffic congestion and the possibility that I may have to buy new glassware when I get home. In other words, there is very little wrong in the Tokyo area. The worst I've seen are some very cracked pavement in Yokohama and a fire in an oil refinery in Chiba. The refinery fire looks bad, but it's isolated. Power and gas are out in some outlying areas, but not here.
As for the Fukushima reactor, there's no radiation leak as far as anyone knows. The reactor is about 200 km north of Tokyo. The generators for the backup cooling systems are down, and they've released air to relieve pressure on the system. The air may contain some radioactivity, and they've evacuated people within 10 km of the plant. 
They're estimating the number of dead and missing at 1000+, but given that cell phones are barely working and nobody can report anything, I would expect that number to increase significantly. On a positive note, it looks like the fires in Kesen-numa are out: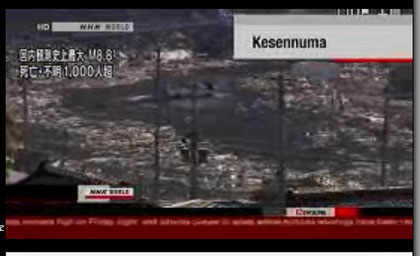 They've got helicopters pulling people off of roofs and they're getting to people holed up in schools. A lot of northern Japan still doesn't have power.
[11:00 update: It looks like the JSDF is in Kesen-numa. Excellent!]
New quakes rolled in throughout the night roughly every 20 minutes or so. People in the office have the TV on, and it beeps every time a new earthquake warning comes in. I just heard two within 5 minutes. They've basically got a permanent tsunami warning up, but nothing has been as bad as the first wave.
Last night the Miyagi quakes gradually slowed down, but then we got hit with a 6.6-er based in Niigata, on the other side of the country. This pinged off a mag 4 in northern Chiba, which is just east of Tokyo, then a mag 3 in Akita back up on the other side of northern Japan. Now we have little ones ping-ponging back and forth between Niigata and Miyagi, with Fukushima grumbling just for fun. If I wanted to be apocalyptic, I'd say it feels like God is trying to scrape Japan off the sole of his foot. Thankfully, Japan is tenacious, and he seems to be getting tired.
Nothing less than a 7 is really registering as significant around here these days. The strongest quakes only come in around 3 in Tokyo, which just means a little rattling. It's unnerving, though.
Beep-beep. Rattle-rattle. Beep-beep. Rattle-rattle.
Google Person Finder:
http://japan.person-finder.appspot.com/?lang=en
Screencap from NHK World:
http://wwitv.com/tv_channels/6810.htm
Earthquake information for Japan: