11.5 hours on a plane, and I was in Vienna. The Austrian Airlines flight featured remarkably pleasant staff, typical airline food supplemented by nice rolls and Austrian wafers, and a video selection that actually, seriously, and I kid you not, included a music show hosted by David Hasselhoff.
My Austrian grandfather used to urge me to get up and exercise regularly on long flights—and sure enough, after every movie there was a cute little CG fairy who showed a lazy passenger a precise sequence of exercises that could be completed in his seat. Ankle rolls, neck rolls, knee lifts...
Arriving in Austria at first felt no different than landing in any airport in Canada—there was a coffee shop in the terminal and even a McCafé in the middle of the arrivals lobby. The ubiquitous German didn't faze me; it was the language my mother used on the phone while talking to my grandparents, meaning it is the language that I am most accustomed to not understanding.
The first incidental German expression I learned was "to pull"—because it's what the people on the subway yelled at me to do when I stood in front of the doors like an idiot at my stop. Nonetheless, I give myself some kudos for arriving in a country I've never seen before and finding my hotel without asking a single question.
Amusing posters on the subway included "Batman: Live Arena Tour" and "Nova Rock", a three-day festival featuring Iron Maiden, Linkin Park, System of a Down, Motorhead, The Darkness, and many more of the like. If you were wondering where they've all gone...
The first thing I noticed, however, was that Austrians love their graffiti. It's on nearly every vertical structure that isn't a hundred years old (which basically means it's on all the bridges and train tunnels, which is also why I noticed it first). Taking a long walk along the Donaukanal, I even found some on the grass.
I arrived in Vienna at 4:00 p.m. local time. I managed to snap 350 photos before returning to the hotel around 9:00.
Stephansdom, or St. Stephen's Cathedral, has been the seat of the bishops of Vienna since 1469, elevated to an archbishopric in 1722. Dedicated to St. Stephen, it is oriented to face the sunrise on his feast day, December 26th.
The cathedral was expanded in stages by Austrian rulers seeking influence through Papal recognition, with the final result a melding of Romanesque and Gothic construction. At 136 metres (445 ft) tall, its south tower was completed in 1433, having taken 65 years to complete. Though constructed of white limestone, centuries of soot have turned it black and grey. 
An opulent little church crammed into a tight corner of Vienna, the current form of Peterskirche, or St. Peter's Church, was consecrated in 1733. The original church was supposedly founded by Charlemagne around 800 (illustrated in a relief sculpture on its exterior wall), while there are verifiable records of a Church of St. Peter in Vienna as early as 1137.
Vienna is incredibly walkable. Or, if you like, you can grab a horse-drawn carriage. With an early start, quite a lot can be done in a single day.
I could describe everything. But I think the photos will do better justice.
The statues in Vienna are phenomenal. And they're simply everywhere.
The Belvedere predominantly consists of two Baroque palaces, the Upper and Lower Belvedere, built in stages beginning in the early 18th century by Prince Eugene of Savoy following his successful series of wars against the Ottoman Empire. 
The Upper Belvedere is now home to a fantastic art gallery: Monet, Rodin, Kokoschka, and the original mounted Napoleon piece. The centrepiece of the museum is a series of works by Gustav Klimt, including The Kiss, which is indeed stunning in its illuminated setting.
Completed in 1737, Karlskirche, or St. Charles' Church, is considered the most outstanding Baroque church in Vienna. When I visisted, the cupola fresco was being restored, and it was possible to take an elevator right up inside.
Even in the few hours before my flight out on my last day, I still managed to get up to the top of Stephansdom and swing around a few churches and other buildings I'd missed.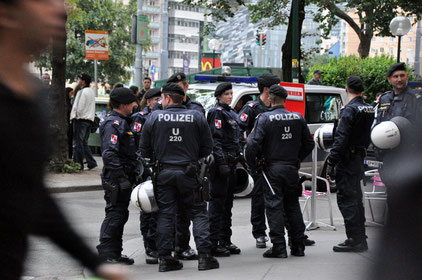 An impending Germany-Austria soccer match resulted in a few hundred cops walking the streets of Vienna while we were there. The only thing on the streets bigger and meaner-looking than the Austrian cops was the horde of German football fans. Those guys were huge. It's like they had a contest and only the fans who were able to headbutt a Howitzer into submission were allowed to come to Austria.
Maybe it was the energy right before the soccer match, but the city had a great vibe to it. It was history intermingled with modernity, cathedrals on the left with gelato on the right, palaces and opera houses a few paces from stands selling pizza, kebabs and hot dogs, elaborate graffiti only a stone's throw from centuries-old beauty. I started to wonder if it would be possible to try to live here for a few years.
The prevailing monoculturalism was strange, though. Perhaps it's like this all over Europe, but I would only occasionally spot someone who was black, and even more rarely see someone Asian who wasn't part of a tour group (the big groups of tourists were mostly Chinese and Korean; the Japanese tourists seemed to prefer keeping in pairs). Austria does have a large Muslim minority, but they're mainly from Turkey and Bosnia.
Before the Second World War, the city of Vienna was also home to 200,000 Jews—some 10% of the population. The number nationally is now 8,100. 65,000 were killed in the Holocaust. There's a Holocost Memorial in Vienna listing the sites of the camps in which they died. It's seldom mentioned, but 40% of the staff at Nazi death camps were Austrians.
It's hard to think about the past sometimes. But for some things, it's also unavoidable.
---
---
---