After 11.5 hours on a plane I am now in Vienna. The Austrian Airlines flight featured remarkably pleasant staff, typical airline food supplemented by nice rolls and Austrian wafers, and a video selection that actually, seriously, and I kid you not, included a music show hosted by David Hasselhoff. My Austrian grandfather used to urge me to get up and exercise regularly on long flights—and sure enough, after every movie there was a cute little CG fairy who showed a lazy passenger a precise sequence of exercises that could be completed in his seat. Ankle rolls, neck rolls, knee lifts…
I arrived 4:00 p.m. local time, and managed to snap 350 photos before returning to the hotel around 9:00.
The first incidental German expression I learned was "to pull"—because it's what the people on the subway yelled at me to do when I stood in front of the doors like an idiot at my stop. Nonetheless, I give myself some kudos for arriving in a country I've never seen before and finding my hotel without asking a single question.
Amusing posters on the subway included "Batman: Live Arena Tour" and "Nova Rock", a three-day festival featuring Iron Maiden, Linkin Park, System of a Down, Motorhead, The Darkness, and many more of the like. If you were wondering where they've all gone...
Graffiti
The first thing I noticed: Austrians love their graffiti. It's on nearly every vertical structure that isn't a hundred years old (which basically means it's on all the bridges and train tunnels, which is also why I noticed it first). Taking a long walk along the Donaukanal, I even found some on the grass.
Viennese Streets
Stephansdom
Peterskirche
Die POLIZEI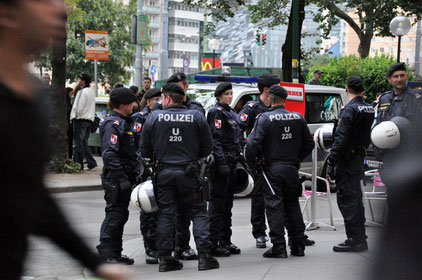 These are a few of the hundreds of cops we saw walking the streets of Vienna today. Why? Because there is a Germany-Austria soccer match tomorrow, and the only thing on the streets bigger and meaner-looking than the Austrian cops was the hordes of German football fans. Those guys were huge. It's like they had a contest and only the fans who were able to headbutt a Howitzer cannon into submission were allowed to come to Austria. And there were still a few hundred of them.
On the complete opposite end of the spectrum, tonight there was also a free concert at Schloss Schonbrunn, the former Habsburg summer residence, as a benefit for victims of the Tohoku Earthquake. The Vienna Philharmonic played a variety of pieces, accompanied by ballet.
Tomorrow I get to spend a whole day here. I may tire out my family...