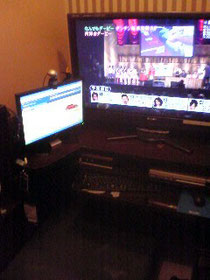 Last night I ended up chatting with my Metam director a bit too long and missed my last train home for the first time. I ended up in Akabane, the northernmost outpost of Tokyo before it transforms into Saitama, where I learned a few things about what I had always thought to be just a sleepy transit station on my way to Shinjuku:
Three hours' stay in an internet café in Akabane costs only

¥

1000. That got me a sealed private room with a reclining couch, a massive flatscreen TV and an average-sized computer monitor for less than the cost of karaoke or a capsule hotel. The sign on the building even advertised, "We compete with hotels!" However, these bounties were securely guarded by a room full of porn, twelve varieties of individual-use sex toys in the bathroom, and a tissue dispenser mounted right beside the couch. Sadly, I couldn't find any contact fluid, though I did follow the lead of a polite guy with a full-scalp tattoo and asked to borrow a phone charger. They took a copy of my gaijin card in the porn room, which conveniently doubled as reception, while I wondered whether this was simply done for future blackmail purposes. For the record, the place where I stayed in Hiroshima had been much more above-board, though perhaps not as private.

As a result of its being the last stop on one of Tokyo's latest-running lines, Akabane has an unlikely concentration of nocturnal activity. There were at least a dozen people flaked out on the concrete in front of the station at 4:00 in the morning, and in the single block between the net café and the nearest McDondald's, I received more offers for "massages" than I've encountered even in Shibuya.

McDonald's breakfast starts at 5:00 a.m., and French fries at 4:15 aren't really very tasty.

The first train out of Akabane is at 4:45.
Metamorph News
As of yesterday, we have placed an order for a cage, and we have placed an order for flyers. Huzzah! The flyers look like this. The Cage remains a secret.
While making some emergency flyers for our pre-show at the Crocodile in Shibuya tonight (come watch, 7:30, ¥2,000!), I learned that Kinko's will charge for 100 copies what Mojoprint charges for 2,000. Not going back there unless my leg is falling off and only glossy 135k paper can keep it in place.