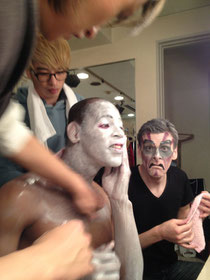 Yesterday we completed our run of A Kabuki Christmas Carol—five sold-out shows from Thursday to Sunday. At the director's talk between the two Saturday shows, several members of the audience suggested either doing the show again next year, taking it on tour, or getting funding from the Japan Foundation.
Starting Saturday, the audiences began to get into the their role in kabuki—engaging in kakegoe, or calling out the names of actors as they enjoy moments of their performances. One of our musicians was a renowned 10th-generation koto player (or something like that) as well as a fully-versed kakegoe artist, and from Saturday on she sat in the balcony and called out the name of every single actor as key moments came up, showing the audience how it was done. A proper kakegoe sounds almost like belch infused with the punctuation you'd put behind a karate chop—not the kind of sound you'd expect to hear from a small 70-year-old woman. When our Sunday matinee audience was subdued during the first act, our brilliant front-of-house head Aja Niedorf came out and reminded them that it was perfectly acceptable to yell out during the show, producing a second half that was much more fun for all of us.
Front of house was a battlefield. With every show sold out—and often oversold—Aja and Lou McLeod had to turn very unhappy people away at every performance. If you hadn't shown up to claim your ticket by ten minutes before curtain, your ticket was gone. By Sunday, we had 45 people on the waiting list—more people than we'd had in attendance at the first performance of Metamorphosis.
After the last show, Meta director Davina McFadyen and I shared a few grumbles about that disparity, but such is life. A Christmas Carol has been a crowd-pleaser for more than a century, and families showed up with piles of kids. Metamorphosis requires you to be ready to be disturbed if you want to enjoy it.
Brian Berdanier and Wendell Harrison were brilliant as Sukejiro (Scrooge) and the Ghosts, respectively. Wendell consistently drew kakegoe just for appearing as a female Ghost of New Year's Present, clad in a long black wig and a beautiful red wedding kimono provided by Ghiselle Camacho, my onstage wife in this play and silent love interest from Once Upon A Mattress.
Brian's rendition of Sukejiro's final enlightenment was gripping, and it was difficult to come out happy and content as Kurachi (Cratchit) for the final scene. And yet, as soon as he opened the door with a big, creepy smile on his face, the audience would go mad, and the closing scene would run brilliantly as we fed off the energy. In rehearsals, the scene had always felt a little dead—it was just the natural conclusion of a story that we'd all seen on TV a hundred times since we were kids. But the reaction of the audience filled us all with an incredible energy that we poured into those final minutes. Our most consistently appreciated mie (kabuki-style snapshot pose) was nothing more than the reveal of a giant fish delivered to my family by a creepy-happy Sukejiro. I even got kakegoe for standing stock-still in shock for three minutes, during which it was hard not to laugh as Ghiselle flitted about catering too my weirdly generous boss.
The first act ended in Sukejiro's past, with Gemma Nokes (Suzanne from Picasso at the Lapin Agile) and Ann Jenkins closing the curtain with an old-school Japanese party dance as Mrs. and Mr. Furuya, respectively. We decided early on that, if kabuki traditionally had men playing women, we should have a woman playing a man. In her top-knot wig and broad-shouldered vest (made by the ever-brilliant Suzy Walker), Ann looked almost like Tokugawa Ieyasu.
To open the second act, Rika Wakasugi (Mrs. Samsa from Metamorphosis) performed an elegant traditional dance as Ohatsu, young Sukejiro's love interest, and even trucked on one night after her wig fell off onstage, revealing her discomfiture only by gently lowering her parasol thirty centimetres to cover her lack of hair.
Julius Fuentes, the violinist from Metamorphosis, garnered cheers for his pathetic stumbling entrance along the hanamichi (or, in our case, the left-side aisle) as Tiny Tomo. He also played young Sukejiro, quickly passing the role off to William Cameron Bolt, who had the delicate task of showing Sukejiro's transition from optimistic apprentice to penny-pinching businessman.
Alice Roschuni (Princess Winnifred in Mattress) had a memorable role as a sleepy old crone stealing from Sukejiro's funeral, while Takuya Matsumoto got consistent applause for a five-minute sequence of Japanese and English tongue-twisters as a mendicant salesman.
In preparation for the death of Tiny Tomo, George Luton, playing my other son Taro, would spend five minutes gearing himself up to cry, while Amber Richardson played my cute daughter Hanako and a variety of passers-by and party members. Hiraku Kawakami would always get a good response as Murayama-san, the stunned first beneficiary of Sukejiro's newfound generosity, and during rehearsals the cast had always enjoyed listening to him call out "Mind your fires!" with the exact same intonation as a member of a 19th-century Japanese fire squad. We even got him an authentic fireman's coat from the Meiji era.
The invisible stars of the show were the kurogo. The word "stagehand" really isn't an appropriate translation: They were stage ninjas. Ayako, Natsuki, Moriaki, Danny and Marie were brilliant every night. When I pulled the door off on the first night, Moriaki had it fixed before I had even left the stage. Ayako cleaned up the cups I dropped on the second night. When Rika's wig was doing its dead marsupial impersonation onstage, it was Marie who subtly scooped it up during a transitionary moment. Danny was always ready with my hammer when I came on as the Mochi Man, while Natsuki had all of backstage wired with battery-powered LED lights the instant she arrived. Both Natsuki and Ayako had worked backstage with a major Japanese playhouse.
There was also a small horde of people, both from TIP and from Yamano College of Aesthetics, working frantically to get Wendell changed every time he stepped offstage so he could re-enter as the next ghost. Led like a Special Forces unit by Frances Somerville, they would have a makeup brush at his face the instant he was out of sight of the audience.
The Yamano students and teachers (led by Masumi Tokita and Timmy Nishimura) did all of our makeup every night, as well as helping with endless touch-ups and costume changes as everyone but Brian played two or more characters. Kimono are easy enough to put on, but tying the obi—the belts—is an art in itself. We had at least two kimono specialists on call every night.
The musicians really brought the whole show to life, and by the time we were done none of us could get the tune of the shamisen out of our heads. Special mention must also go to David Wylie for working out the lights, Divya Cherian for a beautiful backdrop painting, Yuko Ono for designing the sets, and Troy Fisher-Harper for all his work on props—the Ghost of Mahrei appearing in one of Sukejiro's pictures always got a good reaction. And of course, Gary Perlman wrote the play and the ever-talented Jon Reimer directed.
Then, of course, come Sunday, we took it all apart and carted it off. The only question now is whether we will be doing it all again next year.