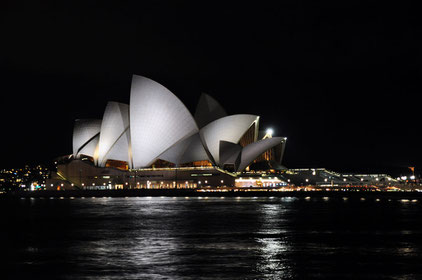 Nine hours from Narita to Cairns. One more flight and three hours later, boom, Sydney. Twenty-four hours without sleep? Check. Three babies training for the Olympic Airborne Screaming Relay Team? Check. Ready to go!
Immigration in Sydney was organized as if they had never expected that people might actually want to line up and get through it. I had a momentary sweat as I wondered whether the electronic travel visa I'd bought—sans documentation beyond an e-mail—had actually been applied to my passport as promised, or if I was about to learn that someone had scammed me out of $20 AUD. It worked without a hitch, I got in, and yes, even citizens of commonwealth countries have to pay a $20 fee just to get a tourist visa for Australia.
Super-Size Me
Australia: Big, beautiful, and expensive. The entire country aims a Howitzer at your pocketbook and never stops shelling. If you think that living in Tokyo has inured you to a high cost of living, you ain't seen nothin' yet: The Aussie dollar is now at parity with the US greenback, and it will cost you $15 AUD just to get from the airport to Central Station. That's not bad compared to the Narita Skyliner (¥2400), but when you consider that it's just three stations and a 13-minute ride, that's getting a little dear. A shuttle bus is exactly one dollar cheaper.
A 600 mL bottle of Coke costs $4 AUD. A chocolate bar is $2.50-$3.00. The average entrée (which Aussies call a "main", while the appetizers are listed as "entrées"—this is presumably done to mess with the French) goes for $20 AUD. Of course, since the meals are gargantuan, a simple trick is to order one meal and one appetizer for two people. I ordered a tonkatsu at a Korean/Japanese place and got something that was literally twice the size of what I would get in Japan—for roughly twice the cost.
Already regretting that I had only exchanged enough cash for $50 per day, I noted that any of the ubiquitous exchange shops in downtown Sydney would have given me a better exchange rate that would have netted me another $100. When I got back to Japan, my credit card would have to be immersed in a water cooling system to prevent it from going into meltdown.
Since Australia's internet is more tightly rationed than its water, I essentially went offline for two weeks. This meant that I couldn't start writing any of my blogs on the road as I normally do, as the process requires heaps of online research and checking. I did buy a McMeal to sponge off McDondald's free wireless for my iPhone, but they had a 50MB limit, so my heavy apps languished in "waiting" nonetheless. Of course, my hotel would happily charge me anywhere from $6-10 per hour for wireless, or double that for a day, but I had issues with the idea of paying one third of my monthly internet bill to receive a service that I expect to get for free in every hotel in Japan.
That said, you'll get a much bigger hotel room than you would for the same price in Japan, and grocery stores sell cereal, bread and fruit at prices you would expect in a Western market. Local trains in Sydney's Central Business District (CBD) cost a more reasonable $3.20 for three stations, and while most buses frustratingly require you to buy a ticket at a kiosk or convenience store in advance (particularly before 7:00p.m.), the fares are not exceedingly high—$2 to get from Central Station to Circular Quay, the site of the Opera House, which is roughly a 2-km distance. Beer goes for $5-$7 in a bar, and with cocktails costing the same or twice as much, who would drink anything but beer?
Circular Quay & the Royal Botanic Gardens
City of Heroes
Sydney is the City of Jocks, a place where awkward, gangly teenage boys look like awkward, gangly rugby players; where women and men alike have square shoulders and chiseled jaws; where blonde comes in Regular, Peroxide, and Ultra; and where the government issues every teenage girl a low-cut top and a push-up bra when she reaches maturity and rolls 1D6+34 for chest size.
Am I exaggerating? A little. Certainly not all of Sydney's 4.6 million people fit the description above; whenever I go to Western countries, I'm always a little unnerved to no longer be the tallest landmark for miles. But walking around Sydney's CBD for several days, I also saw people who made my bodybuilder friends look puny. The place is big. The city itself is like Toronto +33%, architecture old and new inhabiting space with authoritative grandeur that makes my hometown look like a pencil-necked geek at the prom (we even have the pencil!). Even the New South Wales Public Library is a monumental work of art. From the air, Sydney looks like a model train city filled not with Monopoly houses, but with Monopoly hotels.
The money alone is big. Not the famous plastic notes, but the coins: A 20-cent piece is the size of a Canadian 50, while a 50-cent piece is a weighty ridged affair as thick as two coins pressed together. Aussies keep in shape just by carrying change. You might expect the dollar coins to be the size of saucers, but these actually get progressively smaller—both coloured gold, a $1 coin is the size of a nickel, and a $2 coin is the size of a penny, though three times as thick. The rounding of prices has enabled Australia to eliminate the one-cent piece, likely because the things were killing the elderly with their weight.
Sydney CBD & Its Surrounds
Sydney was established in 1788, five years before Toronto (or York, as it was then), and offers familiar street names such as Bathurst, College, Lansdowne, York and King, while George Street is the main retail conduit connecting the Opera House, Circular Quay and the CBD to Chinatown and Central Station. A city of water, the CBD area is like the palm of a hand, with bays and coves carving out its fingers. Boats and ships pass back and forth with purpose, and a ferry or water taxi is a perfectly reasonable way to reach some parts of the city.
By 5:15 p.m., every patio bar in the CBD is crammed like a Tokyo subway at rush hour. Starbucks stands empty and forlorn, closing at 7:00 p.m., apparently out of despair. At the same hour, food courts close down, cafés become bars, and the CBD transforms into a No Food Zone—if you want to eat, you have to head past the Opera House to the Rocks, hit Cockle Bay to the west, or walk back south to Chinatown. The retail stores close down too, so after 7:00 your only choices in the CBD are "drink" or "go elsewhere". Pubs that served food at lunchtime will look at you sideways if you ask for a menu after 5:00. Out at Cockle Bay, a restaurant beside a bar will still be empty until 7:30 p.m.
It seems that everyone who doesn't go to the bar goes to work out. On a Tuesday evening, the Royal Botanic Gardens beside the Opera House are full of people not only jogging, but doing calisthenics and crunches on the grass, playing sport, running up and down the steps, you name it. Just in case there are any doubts, they even have a popular surfing beach called "Manly". Sydney's traffic lights alone encourage a certain athleticism: In the CBD you have 4-7 seconds to start crossing before the light starts to flash, and they mean it. A little accelerating click in the background lets you know how close you are to getting smeared across the pavement, though drivers are usually polite enough to let you live.
A Night at the Opera
The Official Sydney Guide book I'd picked up in the airport had coupons for 20% off tours of the Opera House, which brought the price down to $28 AUD. This was some comfort after spending $20 on a stack of pancakes and a cup of cocoa at an overpriced—if delicious—Belgian chocolate shop on the quay.
Registered as a UNESCO World Heritage Site in 2007, the Sydney Opera house is arguably the most easiliy recognized modern building in the world. It is, however, actually three buildings: One building is a restaurant, and the other two are performance halls, with four smaller performance halls in the base of the site. Its ten "sails" or "shells" are made up of 1,056,006 self-cleaning tiles, intentionally coloured off-white so they don't blind observers with the reflection of the bright Aussie sun.
The innovative design was the result of a competition opened in 1955. Although we now take the place's remarkable shape for granted, fourteen years of controversial and uncertain construction passed between the selection of Danish architect Jorn Utzon's design in 1957 and completion of the building in 1973. At a cost of $102 million AUD, it was ten years late and fourteen times the initial budget, during which time Utzon himself was sacked from the project. Looking at his design submission, it's no surprise there were problems: the thing was essentially sketched freehand, less resembling a schematic than a doodle on the back of an envelope, leading to untold headaches when they actually tried to build it.
The hour-long tour included a look at several of the theatres and a few video shows. Since a set was already onstage in the Opera Theatre (the eastern building), photos were not allowed for copyright reasons, but the space has a lovely feel—though the stage itself is completely wrong. The wings are only 2 m deep, meaning that when they actually perform a ballet there, they have to line the walls with mattresses to keep the dancers from knocking themselves out as they leap offstage. Many companies hire professional bodybuilders to physically catch them. To load in sets they have to use a massive elevating platform behind the stage that is just as big as the stage itself.
Beaches
Two of the best-known beaches in Sydney are Manly and Bondi (pronounced Bond-eye). Manly is a 30-minute ferry ride ($6.60) across Port Jackson from Circular Quay, where you can also get ferries to Taronga Zoo and various other locations. The 2.4-km beach is within reasonable walking distance of the wharf, located at the far end of a pedestrian road full of restaurants and shops for tourists. You can take surfing lessons at the beach, or head up to the hills on either side for a look at the view.
Bondi is east of the CBD, accessible in 45 minutes by bus from Circular Quay ($4.30). Smaller than Manly, it is still said to attract crowds of 35,000 on weekends, and the sand has the soothing texture of soft brown sugar. Bondi connects to a series of beaches all down the coast, collectively billed as the Bondi to Coogee coastal walk. Not content to just offer a casual stroll, at intervals along the route there are stations with chin-up bars, angled planks for sit-ups, climbing stairs, and instructions for a variety of exercises at each station.
This year happened to be Sydney's coolest December in fifty years, and while it was indeed summer and a balmy 22 C compared to the 8 C I'd left in Tokyo, it was never warm enough to tempt me into the water. I was still tempted to try a surfing lesson at Bondi, but it was raining when I set out in the morning and I left my bathing suit at the hotel. Imagine my discomfiture when the weather cleared up in the afternoon.
The Lights of St. Mary's
Crossing Hyde Park in the afternoon on our second day, we were fortunate enough to listen to a guy handing out pamphlets on the corner as we waited for the light. He was advertising a "Lights of Christmas" show at St. Mary's Cathedral across the street, and lacking other plans, it sounded like a reasonable idea.
It turned out to be something I'd never seen before: A massive music-choreographed sequence of moving images projected onto the face of the cathedral, all designed to meld with and play off the stonework. Over ten minutes we watched vines climb, trees take shape and extend boughs for doves, and finally the entire façade transform into massive reproductions of images of the Madonna and Child. The shows would continue several times nightly until December 25th.
The concept only took shape in 2010, but it has already been picked up by other cities. A few days later we saw a similar, though less effective, Nutcracker-themed show in Melbourne.