On Sunday I had a fitting for an upcoming commercial job. I'm only a costumed extra, and this is just my fourth job in two years as an actor/model, so don't anybody go thinking this career is putting me in the limelight or anything. 
I blithely wandered from the station looking for the fitting location, not thinking much of the name on my map until I spotted a gate and the sign for Toho Studios. A six-foot Godzilla statue and three-story mural of The Seven Samuari knocked me to my senses. I was at THE Toho Studios. It felt like walking into the movie lot on an old MGM feature: there was a guarded registration desk, sealed doors, and even a barrier for cars to pass through.
After receiving visitor passes, we were led to a mid-sized building with about four guys cutting shapes out of wood and plastic on the main floor. We went upstairs to a room lined with plaster molds of actors' faces (Koyuki, Beat Takeshi and Ken Watanabe among them), while the shelves were filled with painted molds of faerie heads, monsters, a dragon lady, and two distressingly realistic mock-ups of dead dogs. There was also a life-sized model of a guy just sitting in a chair, and another man apparently on his deathbed. 
The fitting itself was rather quick—but I had no idea this commercial shoot was pulling together such resources. Seeing the team at work on the costumes, I couldn't help but compare it to the random people we draw together to paint and hammer in the alley for Tokyo International Players. I was thoroughly envious.
Guitar Man!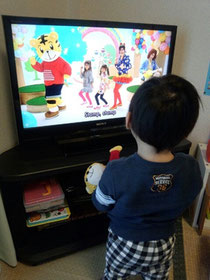 Several months back I beat out a dozen actual musicians to play Guitar Man, a character teamed with Shimajiro the tiger and Kiko Wilson in an educational DVD for Benesse.
I am still embarrassed that I could not effectively sing the lowest note in my three-note Guitar Song when we did ADR, but the day was lots of fun, and I enjoyed working with Kiko and the delightful lady who plays the tiger. Prying the kids off me got tiring after a while—I had a toy guitar prop, easily the most exciting thing in the room. By around 11:00 p.m. the kids had gone home but our day was not done, and we were keeping our energy up by dancing conga circles around the set between takes.
As Benesse seems to sell things in educational packages rather than individually, I have no idea how to find the actual DVD. I did, however, find evidence of its existence on some lady's blog. Photo credits, it would seem, go to "Ora Soma."