There's something humiliating about having to ask how to use public transport in your native language. People don't expect such basic questions, and they look at you like you've been hit in the head. The entire time I was in the UK I played up my accent as much as possible with the hope of clearly stating, 'Look, I'm not stupid: I'm foreign!'
At least when you ask moronic questions in a foreign language, you get to feel good about having successfully communicated.
The train ride from London to Cornwall was lovely, and after some musical chairs involving an elderly passenger relocated to my seat—during which everyone was remarkably amicable and accommodating—I had the good fortune to find myself beside a Cornish woman who pointed out every key feature along the way.
Cornwall is far. My London hosts were impressed by the 4.5-hour 'adventure' I was taking from London to St. Agnes, which, I discovered, was accessible only by an occasional bus from Truro with a schedule that varied based on local college holidays. Just as I was about to throw up my hands in the face of yet another British assumption of universal knowledge, I discovered that the timetables of all three local colleges were printed right on the bus schedule. Well done, Cornwall.
The Cornish coast is brilliant, and varies dramatically from place to place. The southern coast is generally gentler, while the north features high cliffs that give way to lovely coves with sandy beaches. On a walk down from St. Agnes, I discovered the wonders of thorn bushes, which grow in vast patches that will slash your ankles like your trousers weren't there, and then of brambles, which will grab your jacket and simply arrest you. It's a wonder anyone colonized this country before the discovery of titanium alloys.
The English Channel's four daily tides have also been credited with deterring invasions of the Bristish Isles. They occur at different times every day, resulting in massive variations in water level. The effects even spill over to northern Cornwall, where on the day I arrived there was a broad sandy beach at 2:00 pm, while at the same time a day later, there was nothing but rocks.
English Breakfast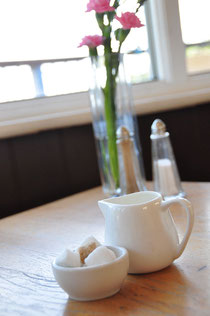 English cuisine typically gets a bad rap. True, the Cornish pasty, the key delicacy of Cornwall, is little more than a better-than-average 'kombini' purchase. But I fail to understand why it has never been mentioned to me that the English have developed some of the best breakfasts on the planet.
A traditional Full English Breakfast consists of bacon, eggs (you can choose poached, fried or scrambled), potatoes, mushrooms, beans, sausages, two grilled tomato halves, and enough toast to stop a truck, often followed by—and not in lieu of—a bowl of cereal. Ordering a 'Full English' is like ordering a meal for five. The Driftwood Spars in St. Agnes did such a good version (which they called a 'Cornish Breakfast') that most days I would get by with nothing but breakfast and the biscuits they left in my room each morning.
St. Michael's Mount
Once a monastery granted to the Benedictine Abbey of France's Mont Saint-Michel, from the 15th century St. Michael's Mount was a privately-owned castle until it was donated to the National Trust in the 1950s. Even after the donation, the St. Aubyn family still retain a 999-year lease to live in the castle.
Being named Michael, I felt it absolutely necessary that I give it a look.
Situated off the town of Marazion, the Mount is about a thirty-minute walk from Penzance Station if you're too impatient to wait for the bus. Accessible via a causeway at low tide, water taxis quickly rumble into gear when the water rises, as was the case at 2:00 pm yet again. 
St. Ives
St. Ives has one of the loveliest ports I have ever seen, with multiple beaches in several directions and fantastic little streets to stumble through. As I rushed to catch the last train out, naturally the unmanned ticket machine at the station would only take exact change, and when I hurried back with a soft drink and £4 in coins, it wouldn't take my change either. So I just got on the train and nobody ever asked me to pay.
A Wedding
As the de facto 'official' photographer for my friends' wedding, I was quickly inducted into the rules by the marriage officer. Did you know that there are specific points in a wedding when people expect you to stop and take fake photos? I didn't. There were other points where I was expected to sit still and not get in the way, which were probably the most difficult for me.