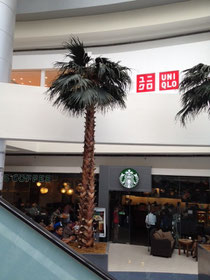 Visiting family in the Philippines from Japan is like moving to an apartment two blocks away: Every time you go, you bring as much as you can carry. And your care package must include at least one case of seafood flavor cup noodles, of which we had two. The guy beside us at check-in had six.
You must also fill every empty space in your bags with chocolate, as this is the somewhat-acceptable alternative when every person you plan to meet assumes that all the space in your suitcase has been reserved expressly for their personal use. Our haul for family alone included a collapsible shopping cart and two sets of curtains, and our key item for next time is a garden hose. It's not that these things don't exist in the Philippines—the local products just don't last as long.
Manila
Immigration at Manila International Airport is a random affair, an amorphous confusion where I arrived at the head of a wobbly line only to be told to submit 'the little one', of which I had no foreknowledge. This turned out to be a square sheet of paper, of which there were only three remaining in the entire disembarkation area, and which it took me fifteen minutes to find crammed into a hole under a table. Then nobody batted an eye as I jumped the queue and handed it over the glass to the immigration officer precisely as I had been instructed.
Manila is a city in decay that thinks it's on the rise. When I visited Bangkok nearly a decade ago, it was a snapshot of disparity: brand-new subways servicing shining skyscrapers while wild dogs roamed empty lots half a mile away. You rode tuk-tuks because the drivers would accept defeat if you negotiated them down, whereas cabbies would just tell you the meter was broken and charge whatever they wanted. Crossing a major intersection took as long as cooking a meal.
Manila is somewhere in between. It is a city that wants to be great, but seems incapable of doing anything well, with new buildings going up under such sloppy concrete that they look decrepit before they're done. There's power, but one in ten telephone poles is diagonal. In poor areas, blocks of ramshackle houses lean against one another for support, blue tarps covering holes in corrugated steel roofs. A mile away, the pristine Mall of Asia, guarded by gender-segregated patdowns at the door, features an arena where NBA exhibition games charge 35,000 pesos per seat (about $800). It is a place of divides, where the wealthy try to pretend the poor just aren't there, and wealth is an easily-removable sheen that is to be guarded.
Manila's roads are broad and well-maintained, and everyone drives a massive American car (no Japanese kei cars here)—which they then use to cut one another off at every opportunity. A four-lane highway will consistently have six amoebic lanes of traffic, with pedestrians and bicycles crossing at will. If I drove in Manila, I'd have a shitbox wrapped in iron rails.
Every car in the Philippines, however, is pristine. The only exception is the jeepneys, jeep-bus hybrids that careen through the streets painted like 1960s flower-power vans, lights off in the dark to save power. If you're lost driving, don't look for GPS—just roll down your window and ask the nearest jeepney driver, or just ask somebody walking by. But otherwise keep those doors locked, and don't roll down the window when someone knocks to sell you something.
Taking one of the few trains requires such a long wait in line that it's better to spend hours cutting through the highway crawl. The other public transport option is to get a 'tricycle', a 50-cc motorcycle hooked to a sidecar the size of a golf cart. While uncommon in Manila, they take over in the countryside, where there seems to be one mandated for every member of the populace.
Otherwise, it's best to arrange to get a friend to drive you, as M. does whenever she visits Manila. We only took a cab on two occasions: The first time, the driver took us straight back to our hotel and we gave him a tip equal to the fare. The next time, the driver locked the child doors and tried to charge us quadruple the going rate, while M.'s cousin had to break off the interior door handle before he would let us out.
Dipping down off a raised highway will immediately reveal up to a hundred people living underneath, even within six blocks of the presidential residence. When we visited a gold-painted wedding chapel, the gateman had a pump-action shotgun hanging on the wall. Some shopping mall parking lots check under your car with mirrors. Jollibee, the local McDonald's competitor, has an armed guard opening and closing the door. Yet his gun is a museum piece, and probably only has one or two bullets, if any at all.
The GDP per capita in the Philippines is less than half that of Thailand, and one tenth that of Japan. The real problem, however, is the distribution—45% of the populace lives off less than $2 a day, which gives you an idea how much the other 55% is hanging onto.
It reminded me of Chris Rock's comparison of 'money' and 'wealth': a reasonable number of people have money in the Philippines. They can buy a nice car. But few have the wealth needed to build a foundation. 10% of the nation's GDP relies on remittances from family members working abroad, allowing one-time purchases, but seldom the funds to maintain them. Faced with hordes of squatters who came to Manila looking for a better life, the government even offered to put them in low-rent housing. Nobody wanted it. You can't pay rent if you don't have a job that pays a living wage.
The Philippines has a strong sense of pride. The driver of the legitimate cab that took us to the airport lamented that fake cabbies give the nation a bad name. Bookstores offer six variations on '10 things you can do to help the Philippines' (One being 'adopt an artist'—seriously?). Recent revelations that politicians have been lining their pockets while infrastructure suffered have been a lightning rod for public resentment: It had hitherto assumed that the money simply wasn't there, not that it was being eaten at the top. When I discussed economic and infrastructure issues with the people I met—it wasn't long before I was unable to hold my tongue—I had the sense that they felt there was no reason the country could not do better, and offered a variety of suggestions for the cause of the present malaise.
All that said, my experience of Manila was entirely benign. We stayed in a luxury hotel for slightly less than we would pay for an average room in Japan. Most of our days were spent being chauffeured from one end of the unnecessarily spread-out city to the other, moving smoothly and seldom affected by other drivers. We met M.'s friends for meals and drinks, where we would cover the table's bill for the cost of a dinner for two in Tokyo. The food was all right, though I would never say remarkable, and I avoided non-bottled water and ice.
It was, in fact, my ease of getting by that led me to spend so much time ruminating on why it should be possible for me to do so while so many people around me were clearly struggling. It just felt wrong to me. By my second night, I was looking up courses on public policy and human development at the UN University in Maastricht. I even considered writing the pope, who has a weird habit of actually answering his mail. Faced with a horde of unemployed workers in Sardinia, he'd recently dropped his planned remarks to deliver a twenty-minute homily on the importance of developing economic systems based around people. Considering the deep Catholicism in the Philippines, I thought he might be interested.