Pontocho
When I finally arrived at Kawaramachi station, the home base for Fozzie's apartment, I forewent my planned and much-needed shower stop and headed straight out to hit the sights.
I was armed not only with my standard-issue photocopies of Socks' Lonely Planet, but also with the faithful tourist map that Fozzie had entrusted to all previous visitors to his lovely city. He'd estimated that I would have time to see Pontocho, Maruyama Park, Gion and Kiyomizu Temple before it got dark.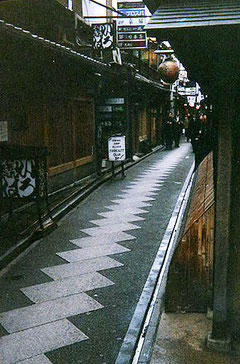 Pontocho-dōri is a tiny street barely wider than a hallway, lined with old wooden buildings and quiet, expensive restaurants and teahouses in the traditional Japanese style. As I walked, I was passed by a kimono-clad woman with a white-painted face and elaborately pinned hair, prompting the Japanese couple in front of me to quietly begin debating whether she was a tourist gimmick or real geisha. Pontocho is one of the last places where geisha can still be found.
I crossed over the Kamo River, a fantastically useful landmark that runs almost perfectly north-south through the entire city, and headed down a street that that had an aesthetic quality somewhere between quaintly antique and simply run-down, at the end of which awaited the broad red gate of Yasaka Shrine, the gateway to Maruyama Park. The shrine was shady and pleasant, though nothing atypical, and I took a peek at the extensive grounds of the park beyond before deciding that it didn't look like it had all that much to offer in the middle of February.
I headed south through Gion, an area of traditional wooden buildings akin to those of Pontocho, but this time set on a wider street. If the streets  hadn't been paved like the floor of a shopping mall, I would have had the feeling of walking through a samurai movie 
I passed through some random temple that I later estimated was probably Kennin-ji, then spotted a lone pagoda that may or may not have been Yasaka-no-to and decided to head in that direction. Around the pagoda I found an ascending cobblestone path and ended up following rickshaw drivers and a steadily increasing flow of people over slopes and steps past dozens upon dozens of temple-related shops, all the way up to Kiyomizu-dera. You could essentially travel all of Kyoto just hopping from temple to temple.
Kiyomizu-dera
I used up about a third of my disposable camera trying to get the "definitive" shot of Kiyomizu Temple. It just seemed to peter out beyond the impressive-looking main gate, which was under repairs beneath a tarp anyway, and I was worried that the only thing this place had going for it was age. The main building, a 1688 reconstruction of the 798 original, just didn't grab my attention, though I found it cute that you had to remove your shoes to go inside.
However, once I passed through the temple and followed the path to the adjacent hillside, I learned that this was a structure best viewed in profile: half of the main building was suspended above the edge of a hill by a box-frame pattern of wooden beams, with a red-painted pagoda set on a stone wall extending out in front while the present-day buildings of Kyoto extended in the distance beyond. It wasn't something that screamed of the spectacular. But it had an air of confident elegance.
The one time I pulled out a map, I looked up a moment later to realize that I could have just made a beeline for Kyoto Tower and found my way easily. Kyoto is very navigable. There is actually a law that no building is allowed to interfere with the view of the surrounding hills, the only exceptions being the tower and the train station.