Niijima Island
I don't think we're in Tokyo any more...
The island of Niijima is a favored spot for surfing and bodyboarding. The trick is how to get there.
While it lies 163 km (101 miles) south of Tokyo, and is much closer to Shizuoka's Izu Peninsula than to anything else on mainland Japan, Niijima is administered as a region of the nation's capital. The island can be accessed from Tokyo in two hours by jet ferry or nine hours by overnight ferry, while daily turbo-prop flights from Chofu Airport in western Tokyo take about forty-five minutes. A three-hour ferry is also available from Shimoda in southeast Izu.
We took the overnight ferry, joining about 1000 others waiting at Tokyo's Takeshiba Sanbashi Pier at 10:00 at night, disorderly lines of people stocked with tents and surfboards and the occasional bicycle.
The ferry offered a variety of seating options, from hotel-style rooms and airline-style seats in first-class to deck seating and a felt-lined floor demarcated with masking tape for second-class passengers. At ¥5350 one-way, deck seating is about ¥3000 cheaper than the next option, and the key is to find a comfortable-looking spot on the floor inside.
When the gangway was lowered, people crammed into every available space, sleeping bags lined up along every hall and behind every seat. The open-air deck was 50% refugee camp and 50% beach party, some people vainly hoping to sleep while others drank and reveled long into the night.
We arrived in Niijima at 8:00 the next morning, following a brief 6:00 a.m. stop at the intermediate island of Oshima, where we were awakened by an announcement advising debarking passengers to be quiet.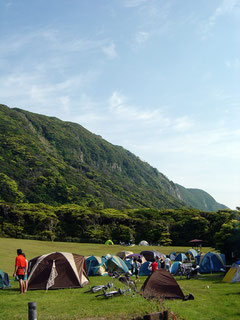 Niijima has an area of 24 square kilometers (9.3 square miles), and is about 10 kilometers (6.2 miles) from tip to tip. Bicycles are plentiful, if of dodgy quality, and the nearest rental shops are about a ten-minute hike down the road from the pier. After that it's another ten-minute cycle through the town and past the little airport to the only campground on the island.
Lounging beautifully beneath a verdant set of 250-meter (820 ft) cliffs, the campground can't be booked in advance—you just pitch a tent wherever there's space. A premium is placed on locations that are sheltered from the wind, lest you return from the beach to find that your tent has gone on a little vacation of its own.
The campsite offers washrooms, cold showers and a cooking hutch, and is directly adjacent to Habushi Beach, the 6.5-km (4 mile) stretch of white sand and breaking waves that comprises much of Niijima's eastern side. Days are spent swimming or surfing, tossing Frisbees or kicking soccer balls, broken by the occasional exploration of the mountains or wandering about the small town.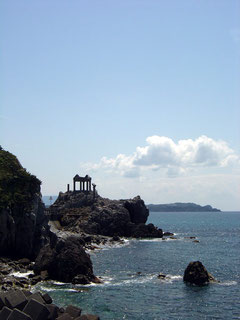 There are a handful of shrines and temples to be discovered here and there, a bowling alley, a supermarket, and a few restaurants with somewhat irregular operating hours, while the Niijima Glass Art Center offers basic courses in glass-blowing. Evenings find most visitors cycling over to Yunohama Onsen just south of the pier, a heated outdoor bath surrounded with fluted columns in a faux-Greek style.
Then, after a few days of soaking up the sun, everyone piles back onto the ferry around 1:00 in the afternoon and enjoys the nine-hour ride back to Tokyo. As luck would have it, we ended our trip riding up the drizzly edge of an encroaching typhoon.
Information:
Other Recommendations
Published July 2009 as Jacob Novoselic. Photos (c) 2009 Michael Kanert.