Of Mice and Men
Four months with the Tokyo International Players
Whenever I told people I was in a play, I repeated the same conversation.
'Oh, how did you get involved with that?'
'Oh, I just went to the website and signed up for the mailing list.'
The real story involved an intricate sequence of ski trips, parties, and personal acquaintances that led to an introduction to Jonah Hagans, president of the Tokyo International Players, but since he just told me to register online it really amounts to the same thing.
Active in Japan for over a century, the Tokyo International Players are technically an 'amateur' theatre group, but when our newly-minted cast met for the first time, the credits ranged from paid theatre and stage management to narration, TV commercials, and minor movie roles. Everyone had given up more lucrative work to be involved in the show, while director Rachel Walzer, herself a professional actress and award-winning narrator, had essentially volunteered to put her life on hold.
I meekly noted that I was an engineer who hadn't set foot onstage since high school, and quietly resolved not to get in anyone's way.
They say that every TIP production has a different feel. Under Rachel's direction, John Steinbeck's Of Mice and Men—soon to be christened 'OMAM' in our weekly schedule updates—took shape through an almost organic four-month rehearsal process, not to mention an antecedent two months of auditions and call-backs. While I anticipated immediate, remorseless notice of my litany of novice mistakes as I tried to stand up with the experienced cast, in the early days Rachel would say little except to note that I was 'making strong choices,' though I suspected this to be director's shorthand for, 'I wouldn't do it that way if I were you.'
Hopping back and forth between a small theatre space in Hatagaya and an international school in Azabu-Juban, we rehearsed anywhere from three to five times a week, tiptoeing around key cast members' work schedules while assistant director Claudia Hamann provided a German-accented version of anyone who was absent. One-on-one character work with Rachel was a particular joy, and my singular breakthrough with Curley came when I was encouraged to read through my lines not as if I were the character, but as if I were me. It was eye-opening. I had always seen 'acting' as 'acting like someone else.'
Rehearsals were marked by hugs, massages, photos, and those random explosions of hilarity that occur when creative people are stuck in a space together all waiting for their turn. By the time we got to the show at the end of February, the 10-person cast had become something of a tight-knit family, and I felt a sense of closeness with them that I hadn't experienced since high school.
Only the two leads, Ed Gilmartin (George) and John Owens (Lennie), proved harder to get to know—not because they were any less welcoming, but because they had so little down time. The two of them endured so many days locked in a room together that they started to sound like the Odd Couple.
Despite spending a third of a year in rehearsal, we had only a week to iron out lighting and sound, and then a mere day to prepare Ebisu's Echo Theatre for the production. Working schedules were no more forgiving, and I had to rush into the dress rehearsal straight off the train from a business trip to Osaka, while it was only a few hours before the first show that we managed to get our outdoor gunshots to sound like they weren't occurring inside a tin bucket.
Costuming largely involved raiding the recycle shops in Harajuku—though not for lack of authentic gear, as a mountain of cowboy regalia, including deactivated real guns, had been generously lent to the production. I suspect that it had to do with the discovery that long, straight cowboy chaps made Ian Martin (Slim) look like an elm tree.
In the end, only one hand-made costume was needed. But when she first tried on the dress she would wear as my attention-seeking wife, Linden Wint had a neckline worthy of a Puritan, while the folding fabric unintentionally endowed her with a mysterious third nipple.
Down on the empty stage, we had a few final words from Rachel, followed by John Owens leading half the cast through a series of warm-ups that included humming through our vocal ranges and shaking our cheeks like basset hounds. At Rob Anderson's (Carlson's) initiative, we concluded with an invigorating 'Hoo-ah!'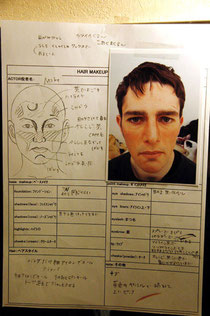 We then handed our hair and faces over to students from the Yamano College of Aesthetics, which donated all of our makeup in exchange for live test subjects. Asked if I was nervous, I felt that, while perhaps I should have been, I had simply resolved to do exactly as I'd done in rehearsal, and if anything needed to change, Rachel would let me know.
As the lights came up, those of us not onstage watched the action through a closed-circuit TV in the cramped dressing room. Our three-piece set, put together over winter break under the supervision of Ed Gilmartin and master carpenter Richard Schwartz, achieved remarkable transitions with the simple use of stage lights that I could not have foreseen while working on it with brush and drill. Frozen in time, each scene could have been seamlessly inserted into the rich brown tones of a 19th century American oil painting.
Our audiences, largely sold out, ranged from international high school students to learners of English and members of the Tokyo ex-pat community. Though there had been some uncertainty in December when Rob Anderson and Ron Scott (Whit) had been asked to switch roles, both resonated with their audiences, Rob's bravado and Ron's subtlety bringing timely moments of laughter to an otherwise somber production.
Stress, too, began to manifest over the course of the five-show, four-day run, as costumes tore, lines were missed, and props were misplaced, and coming back to the dressing room you were equally likely to find someone enraged, in tears, or doing the chicken dance.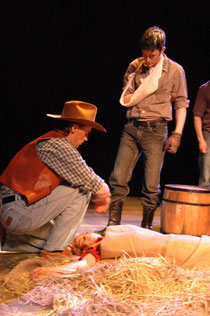 The last show came to a close on the evening of February 28th with flowers, cards, and hugs, and what with the number of times I was told that I had 'grown as an actor,' you would think I must have been 20 feet tall.
In short order, it was time to disassemble the set, drop the thrust stage, and hide all the lights away in an attic-like space under the seats before proceeding to a raucous all-night cast party involving karaoke, a bar, a restaurant, and an ill-advised mechanical bull.
Despite a plethora of enthusiastic promises, only one person from my office had come to watch, and I had bought that ticket myself. Ed confided that he'd had the same experience, so now he sells tickets to his coworkers directly.
With the show done and my weeknights once more my own, I'd anticipated a sense of post-partum depression. But between the gradual exchange of Facebook information and the massive cave-in of all the work I'd been putting off, for weeks it seemed as though nothing had changed.
Even two months down the road, the cast and crew still chat, exchange photos, and meet from time to time. Of course, it's not the same locked-in-a-box family feeling that it had been. But the entire experience is something that still ties us all together, and I hope it always will.
Information:
Published May 2010. Photos (c) 2010 Vladia. Used by permission.