My local Seiyu supermarket/department store is now only open until 9:00 p.m., reduced from its customary 24 hours of operation. It's interesting to swing by and see what's left at 8:15 in the evening.
Yogurt and water: Gone as usual.
Veggies: Depleted or plentiful depending on where they come from.
Bananas: Oddly plentiful despite coming from the Philippines.
Cookies, alcohol, sushi: All you could possibly desire.
The surprises today were bread and cartons of juice. Right after the quake, the bread tray was empty, but nobody seemed interested in juice. Tonight the juice was wiped out, but the bread was practically overflowing. It's like they held an exchange program.
I got to Saitama Super Arena around 8:30 today, which was a great improvement on the chilly 7:00 a.m. huddle I'd enjoyed on Friday. As I rounded the volunteer center, I was pleasantly ambushed by Takumi, who rushed out to give me a high-five. Takumi was the university-aged Volunteer Army Of One from Friday. He'd told me he wouldn't be able to come on Monday, but it seemed that he and a few of his crew were back after all, all of them sporting two extra circles on their "Volunteer" badges. I felt a little inadequate with my singular circle, but decided I'd just have to work on catching up.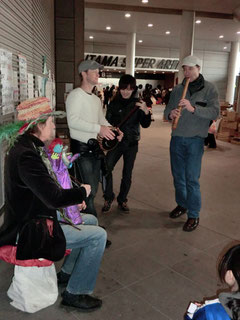 Today was musical. In the morning we were accompanied by a string quartet, and in the afternoon a gaijin showed up with a remarkable puppet that was several instruments in itself, yet moved as if it was playing its own little instruments. It had four arms that worked a pipe, a harp, a violin, and a bell. About five minutes after he started playing, a bongo drummer, a flutist, and a shamisen player showed up, and the four of them initiated a fantastic spontaneous jam session. Watching them from the distribution center, it felt like a physical manifestation of the spirit of mutual support that had engaged us all.
When I went out for lunch someone called my name, and I spotted two elderly women with a man in a wheelchair. The man was wearing the easy-entry shoes I'd handed out on Friday. The women assured me that yes, they had indeed been the right size.
The refugees move out of the Arena on the 30th and 31st, so acceptance of donations has been officially closed as of today, and distribution will end tomorrow. Most of the refugees will be moved to a decommissioned high school in Kazo City, about 30 minutes up the line from Omiya. I'm not sure if donations will resume at the new location.
It seems that only 1500 of the Arena's 2500 refugees are actually from Futaba-machi, a fact I learned while talking to a few officials after a Dutch radio reporter conscripted me to be his translator. The reporter seemed very anxious to get inside the Arena itself, but as of today, only assigned volunteers were allowed inside in order to preserve the refugees' privacy.
The Arena has been loaned out by Saitama Prefecture, and it seem that the effort is being coordinated by the Saitama Prefectural Social Welfare Committee (Saitama-ken Shakai Fukushi Kyougi-kai/埼玉県社会福祉協議会). One organizer I spoke to was actually on loan from a committee in Kawaguchi, which has been sending in a different representative every day. It seems that, at least in his case, his company is not a government entity in itself, but funded by the government and through donations. When there's no disaster to deal with, they work with people with special needs, help the elderly, and do counseling.
A fairly solid core group has developed in the Random Articles (zakka/雑貨) section, and at the end of the day, we made a point of drawing the circles on one another's Volunteer badges. This was much in keeping with the Japanese tradition of always getting someone else to pour your drink at a party, but it also felt a little like a warrior tattoo—the key being that it must be applied to you by a fellow warrior.
As I left a little after 4:00, I noticed a group of potential volunteers lined up in the Alcove of Cold, and asked an organizer why they still had unassigned volunteers at such an hour. It was then that I learned that not everyone got all-day tasks as I had, and most volunteers went back to the Alcove for reassignment after each task was done. I'd bonded so firmly with my own group that I'd completely lost sight of what the others were up to. I'd assumed that periodic accumulations in the Alcove had been fresh waves of newbies.
Just when you think you're helping enough, you find something else you can do… Looks like I might be sticking around a little later tomorrow.