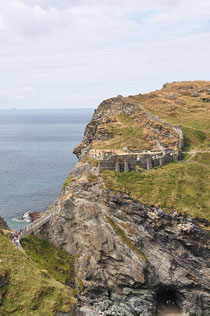 Rather than do the sensible thing and string together coastal buses from St. Agnes to Tintagel via Padstow, I decided to hit Restormel Castle on the way. 
Restormel Castle is a perfectly circular keep set within a dry moat. Little more than a thirteenth-century summer retreat, it now looks quite dilapidated as all of the valuable stones around the windows and gates have been stripped, leaving only jagged shale. It would be a brilliant to see Waiting for Godot there when it plays at the end of August.
The castle's information site bemoans itself as 'oft-overlooked,' which is exactly why I decided to swing by. As it is located roughly a 45-minute walk from Lostwithiel Station, I would recommend that it might heighten its tourist standing by placing a sign within a mile of the castle itself. Quickly finding myself surrounded by nothing but sheep and unmarked side roads, I only found the place by waving down the only biped in the area.
Lostwithiel also had a rather lovely old church and a medieval bridge over its lazy river, while the lady at the tourist information centre was very helpful in calling ahead to determine how on earth I was to get to Tintagel from there.
Tintagel
Prior to my departure, everyone I asked for advice about how to get around Cornwall recommended that I rent a car. These people are clearly mad, or have never driven in Cornwall.
I was initially worried when, between Bodmin Parkway and Wadebridge, we barreled at fifty miles per hour through twisting hedgerows that formed a perfect tube around us, the width of the road exactly twice that of the bus. Then from Wadebridge, the hedgerows contracted to precisely the width of the bus, with opposing traffic still coming around blind curves directly at us. Rather than fret, I just considered that my drivers had clearly survived this routine for years, and enjoyed my £5 roller-coaster rides. Cornish bus drivers could easily win in Monaco.
Driving along the north Cornish coast is like going through a fantasy novel: distant rolling pastures marked by the occasional church spire, all fading off into the mist. However, as I had not anticipated that it would take me until 5:30 just to get to Wadebridge, I had no idea where I was staying that night. I had arbitrarily settled on Tintagel, but I didn't know if Tintagel was a town or just a bus stop by a castle—and I was loath to distract the bus driver from the delicate task of keeping us alive to find out.
Fortunately, Tintagel turned out to be a lovely little town, and the first place I walked into that wasn't proclaiming its lack of vacancy put me up in what appeared to be the bridal suite for £55, with breakfast not only included, but served in a room full of armour by a character from No Time to Wait. Tintagel was the town that introduced me to hake as a rather tasty white-fleshed fish, and also showed me that treacle tart with custard sauce will very likely be the cause of my premature death.
The Castle
Like a kid on Christmas morning, I ran down to the castle the instant my room was sorted. It was technically closed, but as there was no way to close the gate, I just walked right in.
Here I should probably note that James Riordan's Tales of King Arthur was a prized childhood companion, and I owned every Castle Lego set from 1988 to 1997. 
Built in the 13th century by Richard, Earl of Cornwall, the present castle has no relation to the Arthurian legend, but that doesn't keep everything in town from being 'King Arthur's Something,' nor did it prevent me from going completely weepy over every inch of the place as it seceded into the evening mist.
I was so moved that the next morning I got going early for a proper look around. I was able to swing by the lovely Tintagel Parish Church, built in the 11th or 12th century, and still have the castle almost completely to myself until other tourists started to show up around 11:00, and was safely on my way by the time busloads of Germans started to deploy at 1:00. 
The coastline in this part of the country has a rough, masculine quality, like Godzilla's brow, while Tintagel Island, connected by a rocky isthmus, feels round and feminine, their connection tenuous. The castle is spread between the two.
The castle itself was never very big, and most of the island is empty space broken by a handful of exposed foundations. As I walked alone through the green and yellow grasses early in the morning, butterflies literally took flight at my every step, something I'd never thought happened in real life. It was almost possible to believe in faeries and magical things. All around the castle there were a dozen hills to climb and caves to explore, with new discoveries seeming endless. I wanted to stay there and just write stories forever.
Sadly, while I could not, I did leave my book on Restormel Castle to live there forever in my stead.